In retrospect to our mission, please read the interview below….This interview was conducted with a young man in Kenya who has become a valuable participant of our mission. He is one of the talented individuals whom we work with in Africa….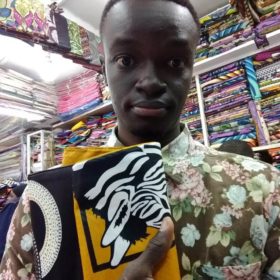 Tell us a bit about your company, its origination, purpose, etc
Otenge started in Campus during my fourth year 2016,i bought my first domestic table top sewing machine using my HELB loan,i was mostly doing clothe repairs but after campus start of 2017 i started designing clothes and bags.I have learnt everything through Youtube and Google.I have a deep love for African kitenge fabric and ankara,almost all my products are kitenge,i think kitenge is just beautiful.My purpose is to be a mainstream fashion brand with hands in shoe making,dressmaking and handbag making
What is your vision, aspirations and future plans for your brand?
From my own market research,i have come to realise that the local market doesn't appreciate African products the same way the outside world does,I want to be a super brand hand making African themed products with resellers mostly in the US and Europe mostly.Someday i will have a huge workshop with employees ranging from soapstone makers,dressmakers,shoemakers,beaded jewellery makers all under one roof,on my payroll
How has Matamart LLC contributed to your brand/company?
Matamart came to me at the perfect,i was struggling financially then.Things are a bit better now.From the first and following bulk orders i received from Matamart i managed to buy an Industrial sewing machine and a professional Nikon Camera to shoot my products and now looking forward to getting a second Industrial machine,then an Overlock machine for dress making and finally a leather sewing machine for shoe making in the future.I have grown 10 folds in this short time with Matamart,that only says what the future holds,if we continue working together.Sincerely i would not be here if if was not for Matamart.I say thank you for the support.
What does it mean for you to have your products abroad and on outlets such as Amazon.com or www.matamart.com
It means everything to see to see my products out there in the world.I saw my bags and jewelry one day on amazon and that feeling of fulfillment it gave me was like nothing i have ever felt before.Thank you so much.Ankara is beautiful yes,people abroad appreciate African products more than the African themselves so having them out there is a real boost to my resume because very few of us Kenyan designers get to have our products sold abroad

When we first met back in summer 2018 you were interested in purchasing an industrial level sewing machine and now that dream is a reality before end of year. How has Matamart contributed to this achievement?
The dream is almost a reality am very close to getting a second industrial machine to supplement my production.Payment from the last order is what i am planning to supplement to get the other machine. Matamart has been in the heart of my achievements as a person and sole entrepreneur and i hope to keep going on this upward trajectory. The future is definitely bright for Otenge

What would you like our customers and the American market to know about African fashion, jewelry, accessories and goods?
In a world where almost all products are factory made or where production is computerized,handmade products are a still stand out.Everything we make is handmade,everything!This should be known by your clients,everything is made in Kenya most importantly.We would not be here without customers.It should be know that designing is months of perfection,lots of trials and errors,a couple of sleepless nights,a little frustration if things sometimes do not work but finally when everything falls into piece and we finally have a product you can own under your name and in a position to sell,our work should be appreciated for what it is
Felix sampling fabrics to make signature designs

final product
"I take this section to give my thanks to Matamart for the support for the growth,we hope business booms on your end,as we go to the next year i would also love to wish for stronger business ties and correlation".